"Disappearing lines" by Dr. Agnieszka Joniak-Lüthi
In 1999, after two years of Chinese language studies in China, I decided to return home to Poland overland via northwest China and Kazakhstan. After Kazakhstan's independence in 1991 in the aftermath of the Soviet Union's disintegration, a bi-weekly train connection had temporarily been established between Astana, Kazakhstan's capital, and Berlin to facilitate the 'return' of the Germans in Kazakhstan to Germany. On the way to Astana, where I would board the train, I wanted to travel along some of the ancient caravan routes that crossed the region divided today administratively into provinces of Qinghai and Xinjiang in northwest China. I scheduled nearly three weeks for this 3500 km bus journey, after which my student visa would irrevocably expire.
However, the pace of my travel turned out slower than expected. Many roads which existed as bold lines on my maps were, in fact, hardly-visible dirt tracks through the stone and sand deserts of the arid northwest. On the increasingly decelerating journey, I finally got stuck for good at the Qinghai-Xinjiang border, in a small village which grew around one of China's largest asbestos mines. Summer landslides blocked the road through the mountains on the Xinjiang side. After strolling through the moon-like landscape for a day, waiting for something to happen, I gave up the idea of moving forward and turned back to embark on a roundabout journey via western Qinghai and Gansu which added some extra 1500 km to what I had originally planned. This journey, for a change, brought me into massive sandstorms which further delayed the travel, making me seriously worry that the visa would expire before I reached China's western border.
My trip coincided with the last year before the launching of China's Open up the West program in 2000. While the agenda of the program has been very complex, it is safe to say that increasing China's territorial integration through infrastructure construction has been one of its main targets. Regions along China's extensive land borders, all of them rich in natural resources but some, like Xinjiang where I have conducted my research since 2011, also volatile and restive, have since been at the receiving end of massive state investment in roads, railways, and airports. Over the past fifteen years, this investment has diametrically changed local and translocal geographies of mobility.
Last year, when I returned to the road that I was unable to take in 1999, I was able to observe the changes with my own eyes. There, where the bus had driven through a road-less steppe and desert in 1999, there was a brand-new tarmac highway. Interestingly, however, though the materiality of the road changed diametrically, when the wind swirled up the sand the tarmac road 'disappeared' from view exactly as the dirt track had done seventeen years earlier. Moreover, in summer months the tarmac heats up to 70 degrees Celsius, making it a place to avoid for both truck drivers and the traffic police. In winter, when sandstorms and dust weather set in, the travelling conditions further deteriorate. Tarmac, which unavoidably disintegrates under the influence of the overweight traffic, sand, sun and salt is symptomatic of a larger issue, namely, that of establishing and maintaining the material presence of the state in this vast border landscape. While currently maintained at extremely high financial and ecological costs, the future of the road is, at best, uncertain.
Things have changed so much since 1999, people say. There is a road to every corner of Xinjiang today, people say. Indeed, 'things' have changed. What exactly has changed, and for whom, is an ever complex question. While some individuals and communities profit from new infrastructures, these infrastructures also create new inequalities by excluding others from participating in the new world of cement and speed. Hence, representations of roads on maps as continuous, apparently available-to-all and non-valorized lines can be, variously, a claim, a fantasy, a desire, or a trick. In the practice of traveling, ethnicity, gender, class and other social categorizations influence mobility in powerful ways. On the other hand, 'things' have perhaps changed less than is often assumed. Roads are still complex bundles of social relations between human and non-human agents like terrain and climate, whose mutual entanglements in world regions like the Sino-Central Asian borderlands remain as challenging to discipline and control as ever.
"Mobility at the Margins of Society." By David Loher PhD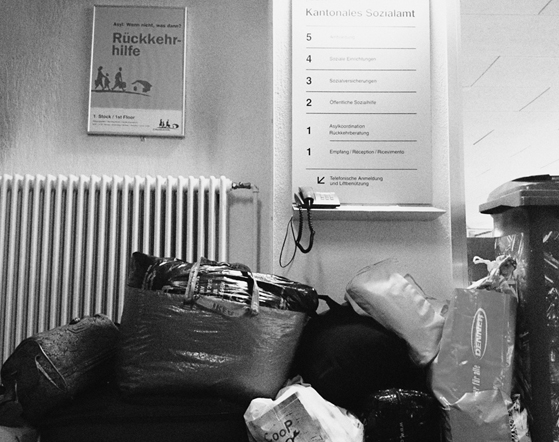 I was coming from an interview with a return migration consultant somewhere in Switzerland. In the entrance hall, a pile of bags and suitcases caught my attention. While I had been conducting the interview, someone had apparently put the luggage there, just under the yellow poster advertising for the so-called assisted voluntary return migration programme. An hour earlier, when I had entered the building, the luggage had not been there yet.
Whose luggage could that be? I looked around. The hall was empty. I waited for some time. But no one appeared. Are these the belongings of someone who is about to leave Switzerland "voluntarily", as the official language of the return migration programme describes it euphemistically? This was my first and immediate intuition.
In the absence of my real camera, I took a grainy, underexposed picture with my smartphone. Then I left the building.
On the train ride back home, my thoughts kept wandering back to the pile of luggage. I realised that, of course, it was not even certain that the pile of bags and suitcases had anything to do with the return migration office. Maybe those were the belongings of someone who just had an appointment with the social welfare office which is located in the same building. If so, this would mean that my speculations had been going in a completely wrong direction and that, in fact, the luggage had nothing to do with my research on so-called voluntary return.
Despite the lacking context, the picture can figure as a symbol for precarious mobility at the margins of society. The building that accommodates the social welfare office and the return migration office is frequented by those who have not found their place in society, or whose place in society is questioned and systematically denied. They are not welcomed, but rather governed and administered by the state bureaucracy. This luggage does not resemble the shiny suitcases of business travellers or tourists in any way. Definitively, here we are not dealing with someone preparing for a holiday. And the sheer amount of material that is packed in these bags gives the impression that someone has stuffed his or her entire life into these bags—ready for relocation.
But maybe this interpretation is all too pessimistic. The owner of the belongings might be quite happy with the prospect that his odyssey will soon come to an end. During my research in Tunisia, I encountered several return migrants who were quite happy that they were able to return to their home town. While they felt stuck during their asylum procedure in Switzerland, the so-called voluntary return migration programme opened up a new perspective for them; that their life was going somewhere again. Being able to make plans for one's own life is a very existential condition of humanity. However, for these young Tunisian migrants, who are wandering around Europe in search for a better future, the European border regime only allows them to imagine their own future under the very specific conditions of a so-called voluntary return.
Hence, we should not forget that even in this more positive interpretation, it is still the state that governs the conditions of the possibilities of mobility and sets the direction. And it is still the state that has brought forward the conditions that made their lives come to a halt. This kind of governed "voluntary" mobility is the dysfunctional version of a transnational freedom of movement.
The grainy, underexposed picture of this pile of bags and suitcases does not reveal much of these reflections in itself. It is nothing more than an invitation to think about the conditions of the possibilities of mobility in contemporary society.
"Drei junge Frauen in Sungai Tenang. Ein Bild und seine Geschichte." Von Heinzpeter Znoj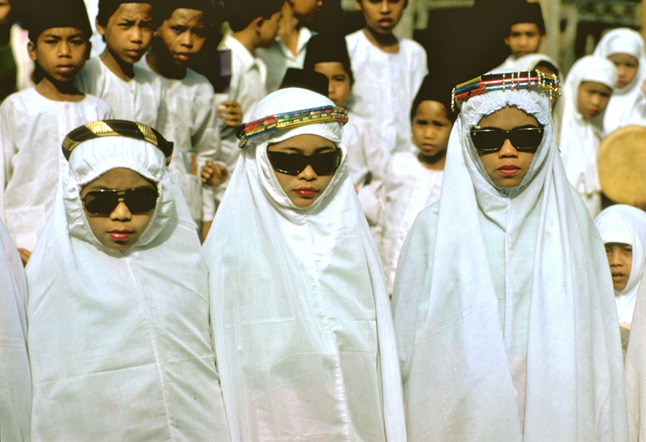 Das Bild, über das ich hier schreibe, hat für mich im Lauf der Zeit immer mehr Bedeutung angenommen, weil ich das, was darin sichtbar ist, erst nachträglich verstand, und weil ich mich so lange darüber getäuscht hatte. Es ist, wenn man so will, ein Beleg dafür, dass eine Ethnographie nie aufhört...
Als ich dieses Bild 1996, nach dem Ende des Ramadan, wenn alle grossen Feste des Jahres stattfinden, in einem Dorf in Sungai Tenang in den Bergen Zentralsumatras aufnahm, hatte mich die eigenwillige Kombination von Kleidungsstücken fasziniert, in der die drei jungen Frauen ihren religiösen Schulabschluss feierten. Sie trugen alle den weissen Gebetsschleier, wie er für indonesische Musliminnen üblich ist. Dazu trugen sie den arabischen Kopfring (Agal), der in seinem Ursprungsgebiet Männern mit hohem Status vorbehalten ist. Zusammen mit den Sonnenbrillen und den geschminkten Lippen hatten die Mädchen so in meinen Augen etwas Kokettes, das der Gelegenheit nicht ganz angemessen schien. Nahmen sie den Abschluss ihrer Madrasah-Ausbildung etwa weniger ernst als ihre Kolleginnen und Kollegen im Hintergrund? Oder brachten sie das Gender-Bending, das ihrer matrilinearen muslimischen Gesellschaft ohnehin strukturell eingeschrieben ist, auf kongeniale Weise zum Ausdruck?
Ein Teil des rätselhaften vestiären Synkretismus klärte sich bald auf. Ein alter Mann, der noch in der niederländisch-indischen Kolonialregierung als Sekretär gedient hatte, erzählte mir über die zahlreichen jungen Männer, die in den 1920er und 1930er Jahren die Pilgerfahrt nach Mekka gemacht und arabische Trachten zurückgebracht hatten. Ausser als Hochzeitstracht hatten die Männer keine Verwendung für sie, denn ihre Kopfbedeckung an religiösen Feiertagen ist der Fez. In den arabischen Ländern dient der Kopfring der Fixierung der Kufiya, des karierten Kopftuchs der Alltagstracht der Männer. Irgendwann mussten die Frauen in Sungai Tenang diesen zugleich praktischen und ornamentalen Nutzen des Kopfrings für sich entdeckt haben. An den hohen Festtagen trugen jedenfalls auch viele alte Frauen solche Kopfringe über ihren Schleiern. Diese eigenwillige Aneignung eines arabischen Kleidungsstücks durch das "falsche" Geschlecht ist ein Beispiel für die kreative und selbstbewusste Art und Weise, wie die Gesellschaft von Sungai Tenang lange Zeit mit dem Islam und islamisch konnotierten kulturellen Importen umgegangen ist. Heute, nur gut 20 Jahre später, sieht man in Sungai Tenang keine Frauen mehr, die sich mit dem Agal schmücken.
Aber es gibt immer noch Gelegenheiten, an denen junge Frauen Sonnenbrillen tragen. Vor zwei Jahren, als ich mit einigen Studierenden der Indonesien-Exkursion nach Sungai Tenang reiste, löste sich endlich auch dieses Rätsel für mich. Im Alltag tragen weder Männer noch Frauen Sonnenbrillen. Wer sich derart dem Augenkontakt mit anderen entziehen würde, würde als hochmütig angesehen werden. Die einzigen Gelegenheiten, an denen junge Frauen, selten auch junge Männer, Sonnenbrillen tragen, sind Feste, an denen sie dem ganzen Dorf präsentiert werden, also Schulabschlussfeste und Hochzeiten, an denen oft mehrere Paare auf einmal heiraten. An jeder Hochzeit erklärt zu Beginn ein Zeremonienmeister den Ablauf und die Verhaltensregeln. Die jungen Leute werden ermahnt, sich anständig zu verhalten. Und es wird darum gebeten, dass jene, welche vielleicht über das Resultat der Heiratsverhandlungen unglücklich sind, auf Hexerei verzichten.
Tatsächlich kommt es nach Angaben der Einheimischen immer wieder vor, dass an Hochzeiten die Bräute von Geistern besessen werden, die ein missgünstiger Schamane herbeigerufen hat. Zu ihrem Schutz setzt man ihnen Sonnenbrillen auf. Es besteht der Glaube, dass die Geister die Schwäche ihrer Opfer am ängstlichen Blick erkennen. Mit der Sonnenbrille soll der Geist getäuscht werden. Ich selbst wurde vor zwei Jahren Zeuge davon, wie ein Brautpaar, dem man kurz zuvor noch rasch Sonnenbrillen aufgesetzt hatte, in Ohnmacht fiel und aus dem Festsaal getragen wurde. Ein Schamane trieb danach den Geist, der sie besessen hatte, wieder aus.
So löst sich nachträglich auch das Rätsel des Bildes, das ich an jenem Madrasah-Fest aufgenommen hatte. Das Fest fand wenige Wochen vor der jährlichen Gruppenhochzeit statt, und die drei jungen Frauen waren offenbar Bräute, über deren Heiratspartner sich die Mütter bereits geeinigt hatten. Auf ihren Status weist auch der Lippenstift hin: Lippenstift wird in der Öffentlichkeit nur von unverheirateten aber heiratsfähigen Frauen getragen. Das Madrasah-Fest war eine erste Gelegenheit, an der ein Hexer oder eine Hexerin einen Geist herbeirufen könnte, um dagegen zu protestieren, dass sein Neffe oder seine Nichte bzw. ihr Sohn oder ihre Tochter leer ausgegangen ist. Die jungen Frauen im Hintergrund waren keine Bräute, und die gleichaltrigen jungen Männer waren noch nicht im heiratsfähigen Alter. Junge Frauen, die nicht weiter in die Schule gingen, heirateten damals mit 14 Jahren, junge Männer mit etwa 20.
Sind die drei jungen Frauen auf dem Bild kokett? Vielleicht bei anderen Gelegenheiten – aber auf dem Bild sehen sie angespannt den übernatürlichen Herausforderungen der bevorstehenden Hochzeit und den ihnen unbekannten und deshalb angsteinflössenden Ereignissen ihrer Ehen entgegen. Wer mehr über das Heiraten in Sungai Tenang erfahren möchte, dem sei Kathrin Oesters Buch "Ramadan im Regenwald" und ihr Film "I Love You – Hope for the Year 2000" empfohlen.