Anthropology Research Seminar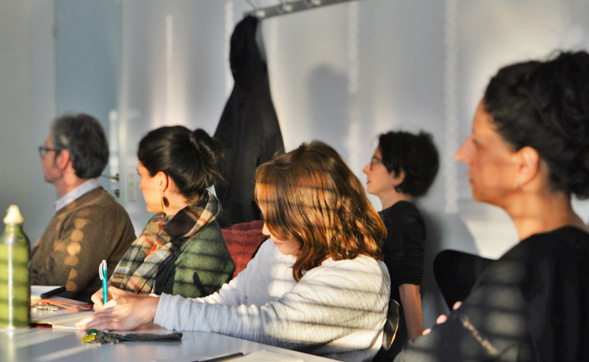 Tuesday, 6.15−7.45 pm, Room S 221, Unitobler, Lerchenweg 36, 2nd Floor
The obligatory debriefing session takes place on Wednesday morning 8:15 to 9 am via Zoom or at Room S221 at the Institute.
Everyone is welcome to join.
The Tuesday Research Seminar has a maximum capacity of 16 seats. The wearing of face masks is compulsory. Online registration for each session is required via the Ilias group of the Tuesday Research Seminar (select session >"register").
Attantion!
New List of Attendance
From FS2019 onwards, Master students must also participate in the obligatory debriefing session on the lecture they have attended. The participations must be confirmed by a signature of the professors. The list for download can be found at the end of this page.
Program of the Anthropology Research Seminar at the Autumn Semester 2020
22. September Mittelbaugespräch (geschlossene Veranstaltung)
29. September Against a (Virtual) Wall: Surveillance and Futurity in the US Mexico Borderlands. Dr. Darcy Alexandra, Universität Bern
06. October Quality Matters. Colonial Rule, Local Agency and Multinational Trading Houses in the Indian Cotton Trade, 1850s to 1930s. Prof. Dr Christof Dejung, Universität Bern
13. October Soundscapes of Dispossession and Return: Palm Oil Industry and Struggles for the Territory in Colombia. Dr. Maria del Pilar Ramirez, Universität Bern
20. October Kaleidoscope of Truth: False Cases, Real Evidence and Controversial Intent. Dr. Sandhya Fuchs, Universität Bern
27. October Atmospheric Citizenship: Sonic Movement and Public Religion in Shi'ite Mumbai. Prof. Dr. Patrick Eisenlohr, Universität Göttingen
03. November The Business of Wayfaring. Dr. Martin Saxer, Universität München
10. November Europe's Un/Deserving: Contrasting & Comparing Moralizations of Inequality. Prof. Dr. Jelena Tošić, Dr. Andreas Streinzer, Universität St. Gallen
17. November Trans*-Formationsprozesse in Andalusien, Südspanien. Dr. des. Christof Imhof, FHNW Olten
24. November Occult Justice: Crime, Intimidation, and the Restoration of Balance in Haiti. Dr. Marco Motta, Universität Bern
01. December Searching for Ethics. Legal Requirements and Empirical Issues for Anthropology. Prof. Dr. Anne Lavanchy (HES-SO Genève), Dr. Nolwenn Bühler (Université de Neuchâtel)
08. December Indirect Rule and the Politics of Fragmented Responsibility in the Central Mediterranean. Kiri Santer M.A., Universität Bern
15. December Austerity Medicine. Precarious Healthcare in Contemporary Spain, Before and After Covid-19. Dr. Janina Kehr, Universität Bern