Anthropology Research Seminar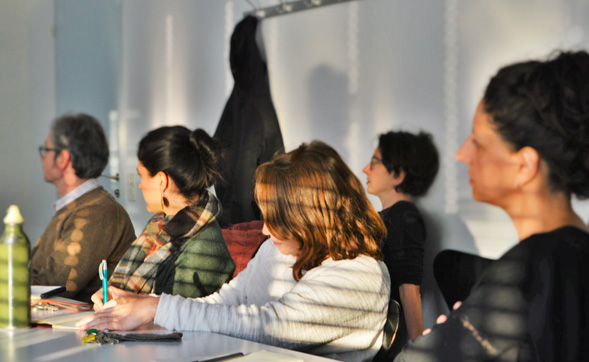 Tuesday, 6.15−7.45 pm, Room S 221, Unitobler, Lerchenweg 36, 2nd Floor
Everyone is welcome to join.
Attantion!
New List of Attendance
From FS2019 onwards, Master students must also participate in the obligatory debriefing session on the lecture they have attended. Both participations must be confirmed by a signature of the professors. The list for download can be found at the end of this page.
Program of the Anthropology Research Seminar at the Spring Semester 2019
19. Februar Weather, Distributed Agency and Values at Work in a Glacier Ski Resort in Austria. Herta Nöbauer, Dr., Senior Lecturer, Institut für Kultur- und Sozialanthropologie, Universität Wien
26. Februar Land alienation in Tanzania: squeezed between nature conservation and tourism, land investments and speculation, and land laws. Jevgeniy Bluwstein, Dr., Obersassistent, Departement für Geowissenschaften. Universiät Fribourg
5. März "It is not a world of entitlement!" Stories from the coffee commodity chain in Kenya. Samuel Weissmann, M.A., Doktorand, Institut für Sozialanthropologie, Universität Bern
12. März Anthropological Perspectives on Uneven and Combined Development. Sharryn M. Kasmir, Dr., Professor of Anthropology, Department of Anthropology, Hofstra University
19. März Central Asia at Centre Stage: The Politics of Representing Inner Asian Societies. Steven Parham, Dr., assozierter Wissenschaftler, Institut für Sozialanthropologie Universität Bern, Postdoctoral Researcher, Academy of Finland Project, University of Tampere
26. März Aesthetics, Experience, and the Presence of the Past: Aesthetic Reconstructions of Madagascar's Cultural History in Malagasy Popular Music and Diffusionist Anthropology. Markus Verne, Dr. Professor für Ethnologie, Institut für Ethnologie und Afrikastudien, Johannes Gutenberg Universität Mainz
2. April The invisible materiality of the cigarette packet. Kirsten Bell, Dr., Professor of Social Anthropology, Centre for Research in Evolutionary, Social and Inter- Disciplinary Anthropology (CRESIDA), Department of Life Sciences, University of Roehampton
9. April Auf zum Berg Seguntang - zu den Sprachforschungen Renward Brandstetters (1860-1942). Jürg Schneider, Dr., assozierter Wissenschaftler, Institut für Sozialanthropologie, Universität Bern
16. April Self-entrapment of social entrepreneurial programs for refugees: enslavement dynamics of the corporate state. Marina Gold, Dr., Researcher, Department of Social Anthropology, University of Bergen
23. April FERIEN
30. April The Curse of the Inca: Peruvian Horror Films and the Reconquista of Andean Identity. Martha C. Dietrich, PhD, Assistentin, Institut für Sozialanthropologie, Universität Bern
7. Mai No child left behind: the unintended consequences and inconsequential intentions of corporate social responsability in China. Ellen Hertz, Dr., Professor für Ethnologie, Institut d' ethnologie, Université de Neuchâtel
14. Mai Ethnologische Expertise in Asylverfahren? Reflektionen zu Möglichkeiten und Grenzen ethnologisches Wissen in Asylrechtsprechung einzubringen. Friederike Stahlmann, M.A., Doktorandin, Max-Planck-Institut für ethnologische Forschung, Halle/Saale
21. Mai Mittelbaugespräch / kein Kolloquium
28. Mai The German 'Transplant Scandal' and the Ambivalence of Manipulation. Julia Rehsmann, Dr. des., Assistentin, Institut für Sozialanthropologie, Universität Bern